We continue our look at Ambiente. Design fairs like this reflects our lifestyle. If we feel something is important, then you can expect an interpretation or solution of that at a fair. For instance, after #metoo we saw a lot of posters, coffee cups etc with messages of "girl power". So how is the state of our lifestyle 2020?
Let me start by saying that sustainability is the main driver of everything in our lifestyle today, but we talk about sustainability in a separate section. Instead we can sum it up as we will talk about how we need to calm down, get help to talk to eachother – and coffee.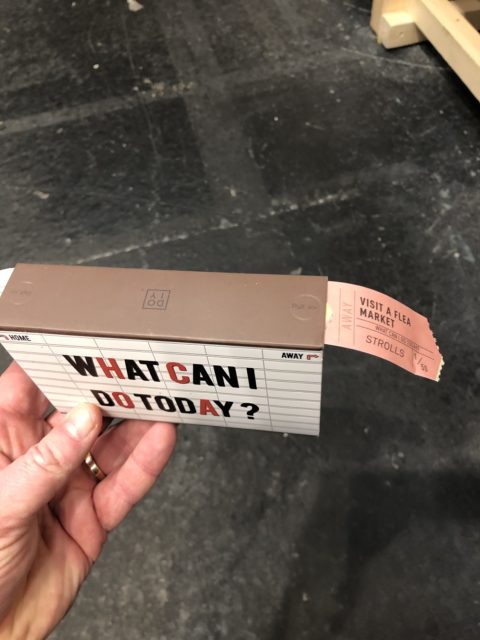 Are you bored? Apparently not the only one. Walking the isles of Ambiente I saw several solutions of kits or object trying to help us get out of the sofa or get offline from Instagram and instead do things. But what? It's like we have all forgotten what to do on a lazy Sunday. So new objects come in place.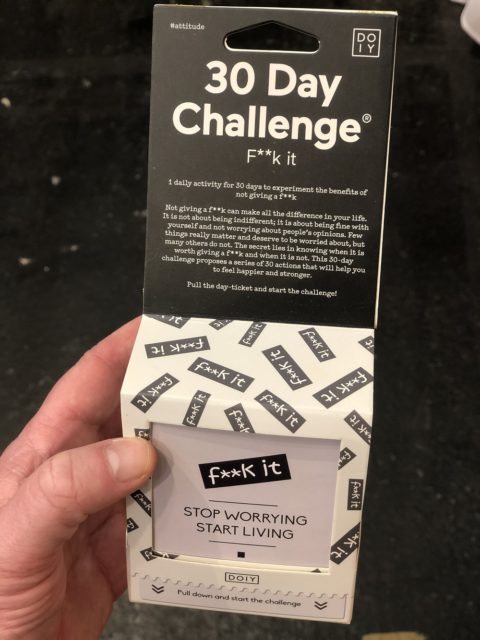 Dating cards or even cards for when you go out with your friends. What do we talk about instead of just looking at Instagram?
I see this not as a "go back to the roots" or how things were better before – its just like we completely forgot to live outside of Instagram and need help for that. I think we will see much more of this.
Instagram friendly, of course, but the idea that you need to do things that are not perfect or even awkward.
I think we will see many more examples on how to wind down and stay calm.
The ten minute breather… Light a match and you get room scent for ten minutes. I have tried it and it really just last for ten minutes. Perfect for a calm down for the weekend or meditating over the past days.
Water bottles. Yes… There are plenty of water bottles still. But it's like my designer friend Ineke Hans says – "why carry water? Why not drink at the tap when you arrive?"
Regardless. More and more versions. Absolutely different sizes.
And of course a whole new segment should come out very soon. How do you clean your bottle? Of course you need a separate utensil for that.
Food is extremely important and our dietary choices suuuuuper much a part of our lifestyle. Vegan, pescatarian, non-inflammatory food… regardless. This means we will cook more at home and bring lunches for work. So expect new solutions for carrying food.
And silicone is the new plastic. More sustainable but also more expensive.
More food. Found this extremely interesting. Easily make your own almond milk. Easy usage and easy to clean. Our dietary choices again. Is lactose intolerance part of your identity? This (and above silione bag) from Spanish Lekue.
Speaking of identity. Origin and history will be bigger. These vases from Weimar and the Bauhaus movement. Made in a small factory in Germany. Origin, origin, origin. A few years ago we talked about craft, showed pictures of hands holding tools etc, etc. Now it is all about origin, origin, origin. This from Design We Love.
Thai boxing as a sign of origin, origin, origin.
And finally – it is all about coffee… I realise these are hot water kettles, but the same alternatives were there for coffee makers to.
Coffee is absolutely the main focus for a lot of the lifestyle in coming years. Stelton and RigTig made at set of new kitchen utensils – also of course with coffee makers.
Get the perfect coffee on the go.
Make the perfect foam pattern…
New and old coffee cups.
Coffee filter maker Melitta now make a coffee machine.
Of all the sections in our home – coffee was definately the area with most innovation and new stuff. I am not talking about if we must have these things but a lot of newness in this field. Will a coffee maker or foamer be Christmas gift of the year 2020?
Finally and my last point for this section. I want to talk about plates and tableware. One of the strongest sides of Ambiente is that all important and all large porcelaine producers are exhibiting here. A good opportunity to look at what our tables will look like.
Well a first conclusion is that we slowly but surely are leaving the rough and crafted feeling. Plates get more elegant. And of course Rosenthal address this by inviting fashion designer Gianni Cinti from Gianfranco Ferre to make a large collection.
I would say that that the main trend for tableware is that it is tactice. It is all about structure.
There is a play between matte and shiny.
A fairly new and fun thing were these presentation plates. These are from Pillivuyt.
So, very few patterns. More focus on structure. There are some exceptions of course. Above you see the pattern at Rosenthal and here are very delicate and strict lines at the new tableware by Ann Demeulemeester for Serax.
But others are also doing this. Thin lines at the edge of the plate.