Paris, mon amour. The interior design fair Maison & Objet and Paris Design Week had almost all halls open for the fall edition. Plenty of people and I would say the majority of the people were extremely happy. I haven't seen the official numbers but here is my report. I heard there were over 2 500 exhibitors. We can conclude that we more and more are heading into some kind of 1980s mood. Get ready for 80s colours (lion's yellow), pattern, contrast with black-and-white and aesthetics from the era.
So, trends.
Patterns on patterns
Lets start with the obvious. You should have seen it already on various social media. But we will see plenty of patterns.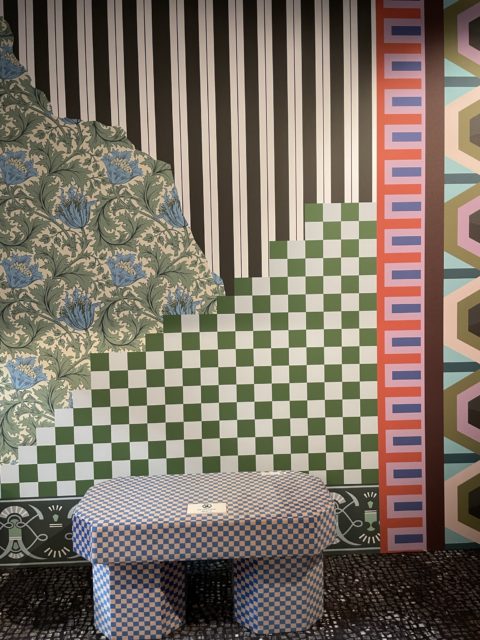 At the trend exhibition at the fair, we could see several installations where patterns were basically stacked on eachother. Like we can't get enough. Nothing is right – and nothing is wrong.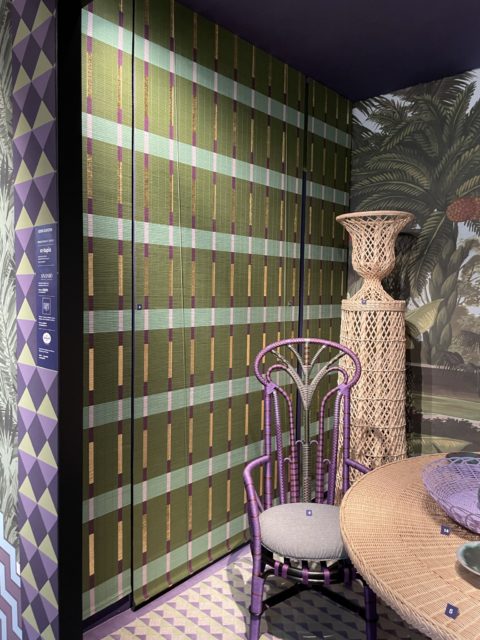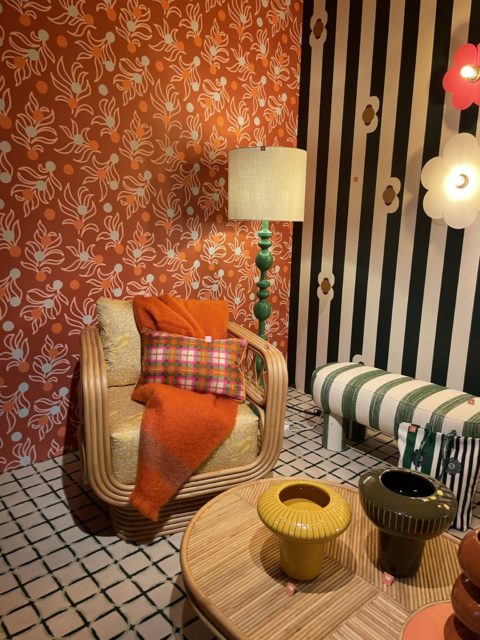 There weren't so many exhibitors falling into this trend – but we could see it on town during what is called Paris Design Week. Here Rubelli. Total clash. But nice.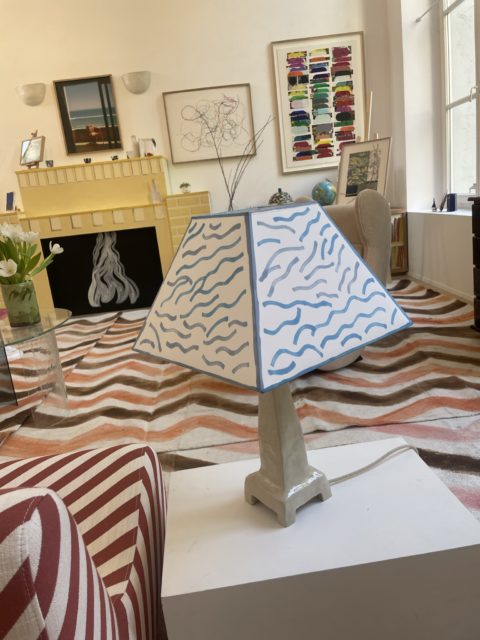 One of my favourite installations was the one at Amelie Maison D'Art, They had taken a painting by David Hockney and made furniture from the painting. Or interpretations. Very 80s and also patterns on patterns.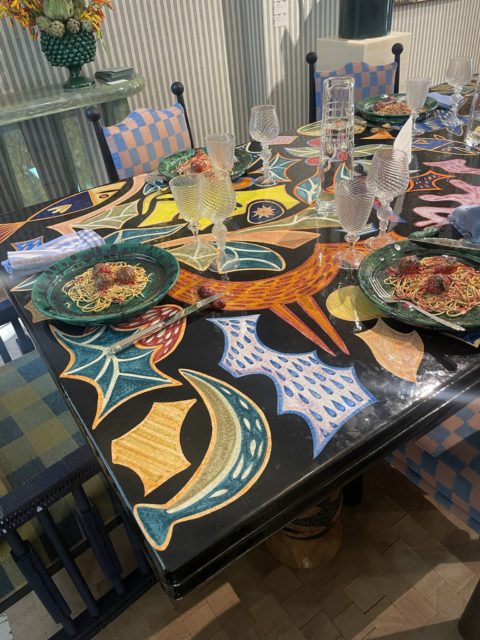 Lovely Laura Gonzales also worked in this theme. Notice the table with the plates and the chairs and the wallpaper…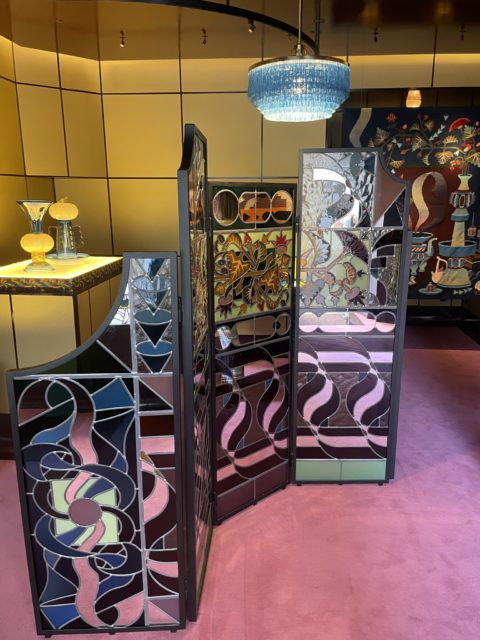 At Galerie Pierre Marie. Beautiful wallhung rugs with room dividers with glass patterns.
Also at Merci. Here they worked much more on a kitsch theme. Old plates with handkerchiefs sawn together as a tablecloth.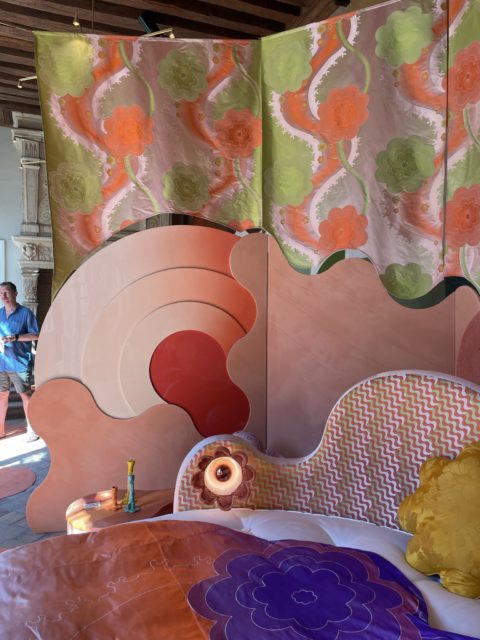 Last but not least, most talked about installation by architects at Uchronia. It looks thrown together but look at the dye effects and how curves match eachother. Super crafted. And lots of colours and patterns.
Black and white with strong colours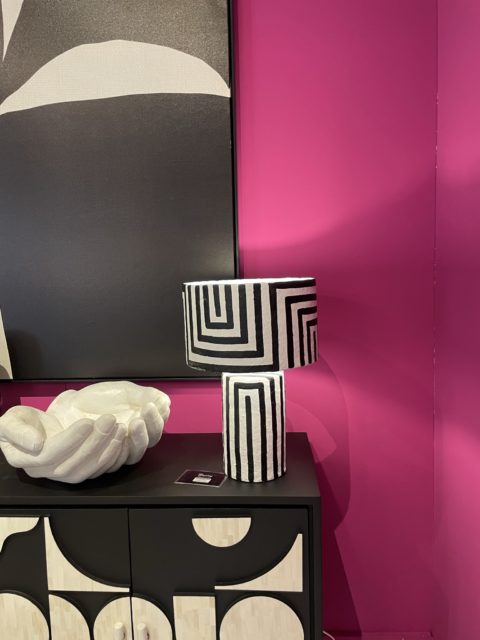 Yes, also an 80s reference. This black-and-white but together with a strong colour. In this case not so much pattern but focus on just colour.
Table at Conran Shop.
Matthieu Lemarie with GGSV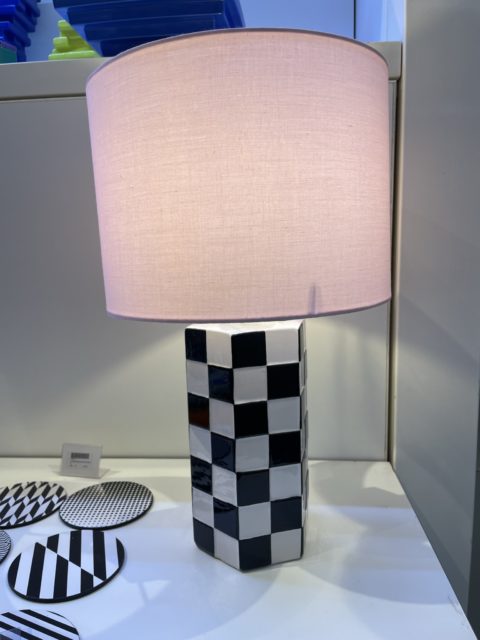 At &Klevering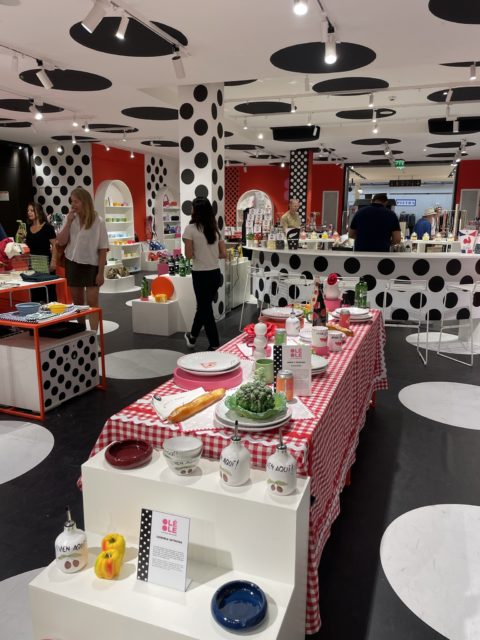 Not only stripes – also polkadots. Here at Le Bon Marche.
Here at Portuguese ceramics brand Maria Portugal Terracotta
But in general – more floors like this with exhibitors.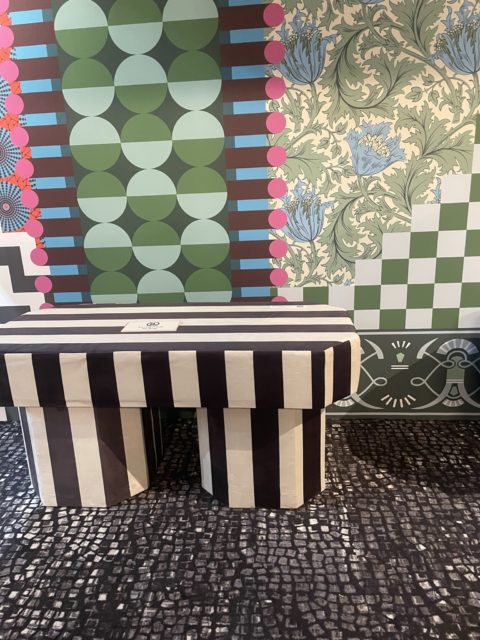 Last two pictures from the trend installation at the fair.
Yellow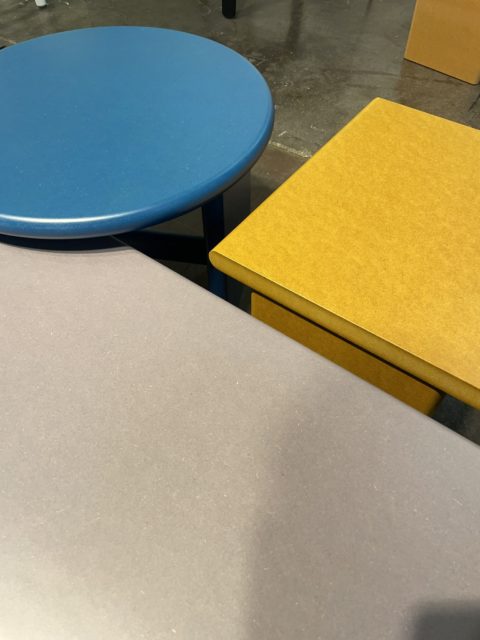 Yellow is also an 80s reference. Especially this darker yellow. In Swedish we call it "lion's yellow". Not as dark as mustard. Here at Cruso.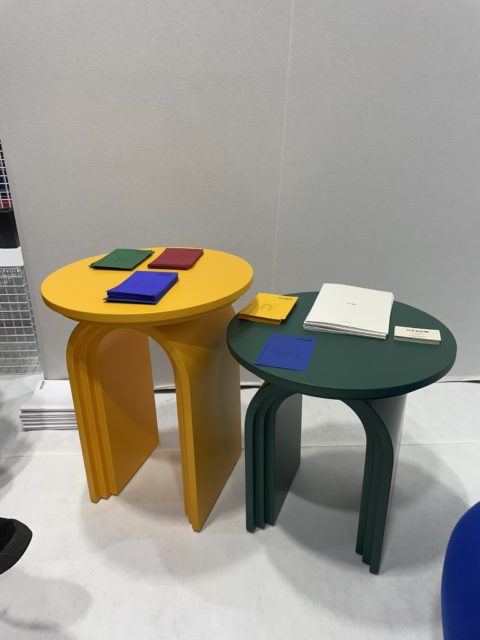 This lion's yellow go well with all darker tones. Like a dark blue or oxblood. Here Ukrainian brand Diza.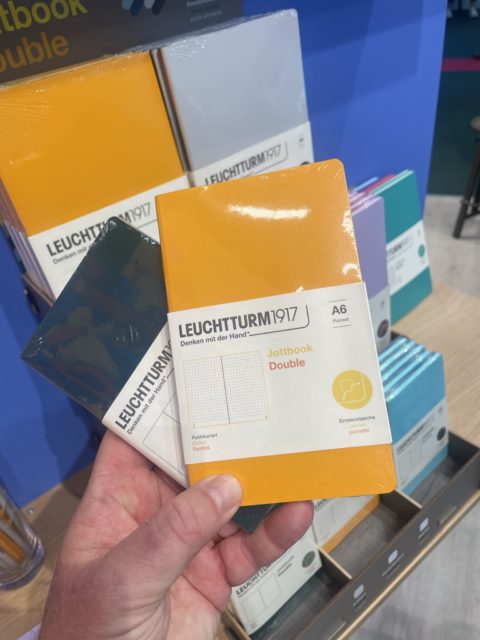 Notebooks at Leuchtturm.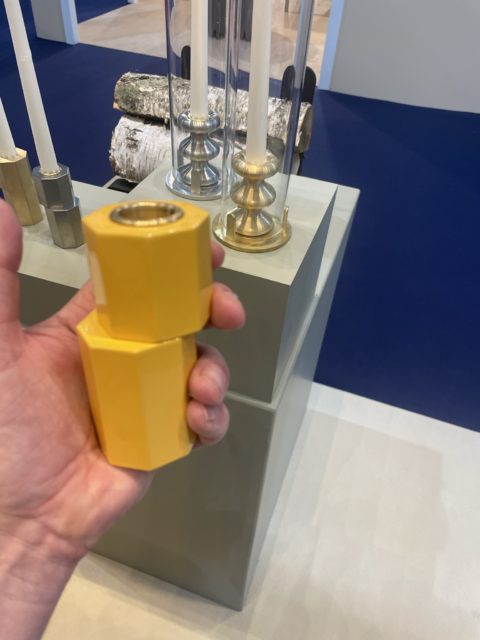 Candleholder at Eldwarm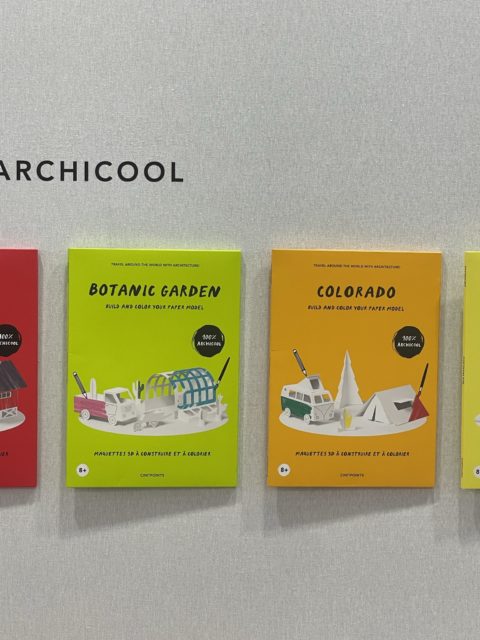 But as my trend colleague Alina say – you should add a chartreuse to it. Then it feels much more updated. We saw it also at Uchronia.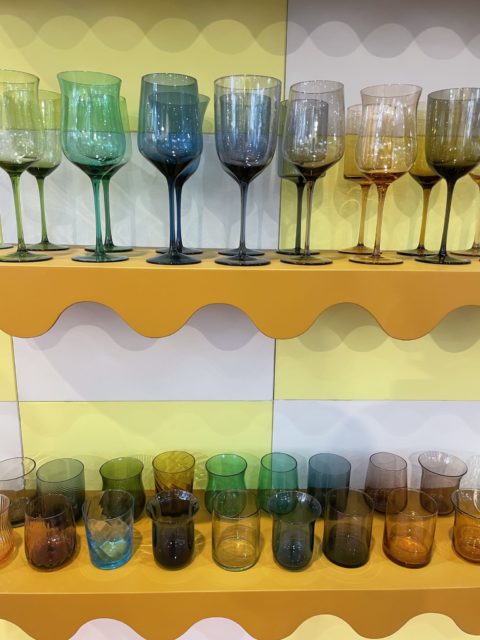 Bitossi Home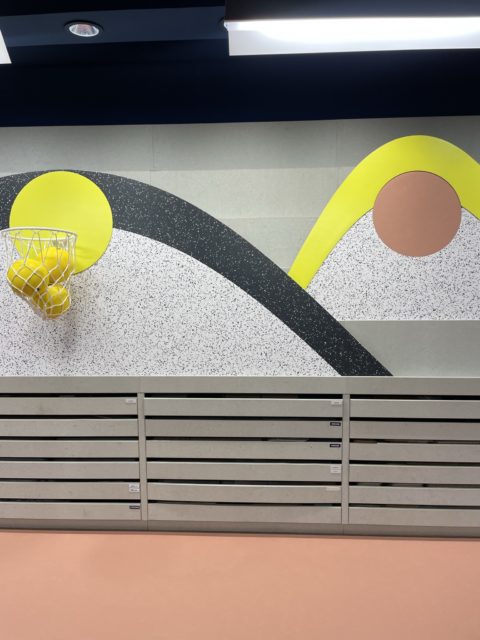 Tarkett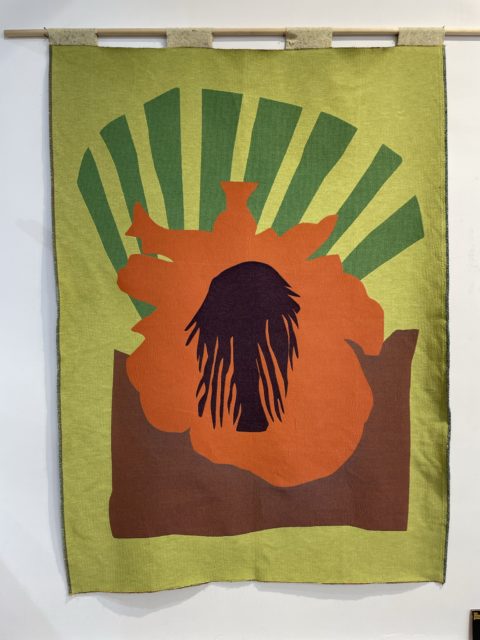 Manuel Leromain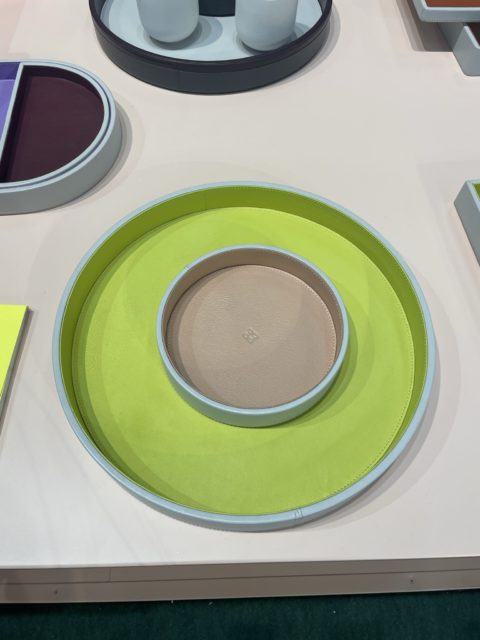 Giobagnara
The perfect apricot…
Last colour trend. Last year we saw a lot of brands working with what we call "apricot crush". A bit less now. But still around. Don't expect it to survive 2024… And there is not really ONE colour or colour combination. Everyone tries to find their own solution.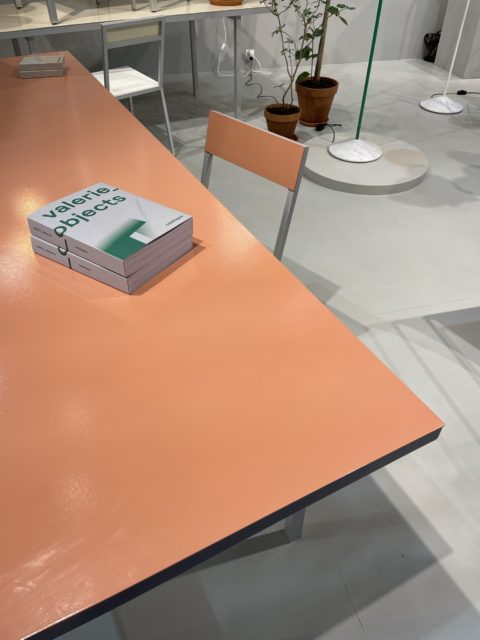 Valerie Objects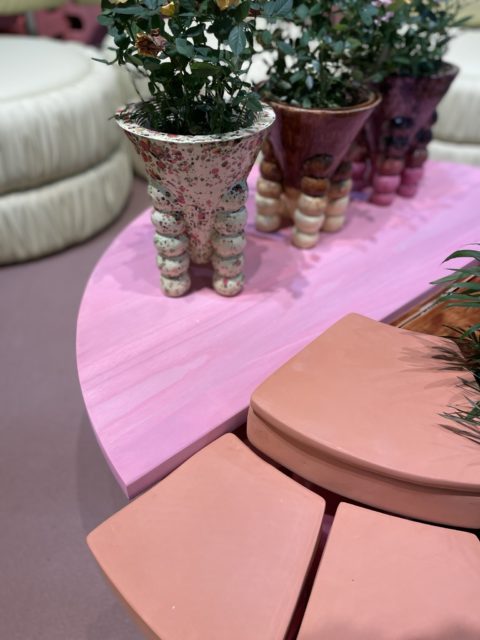 Masquespacio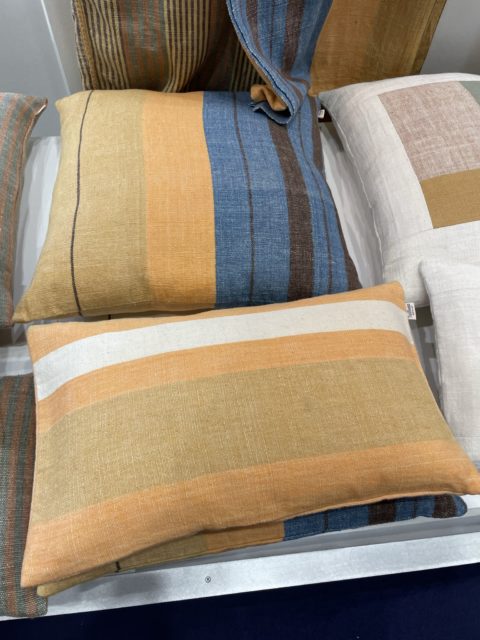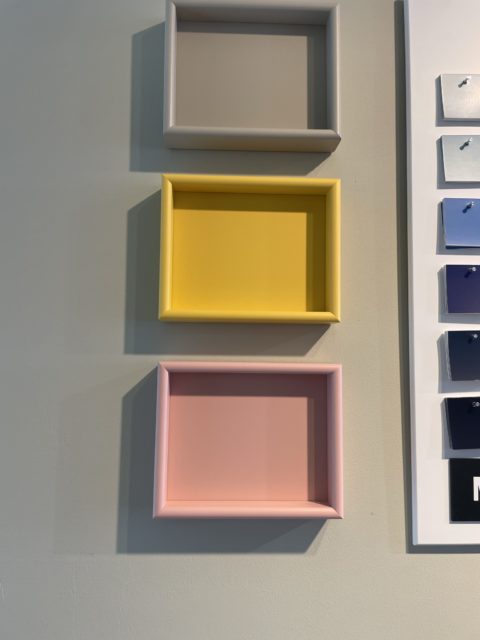 Montana at Conran Shop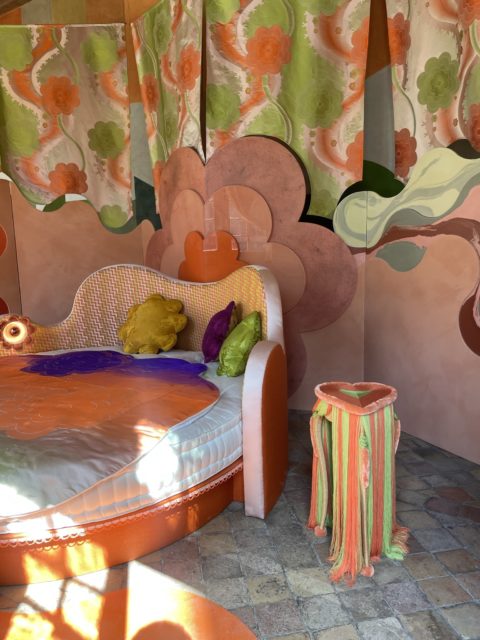 Uchronia again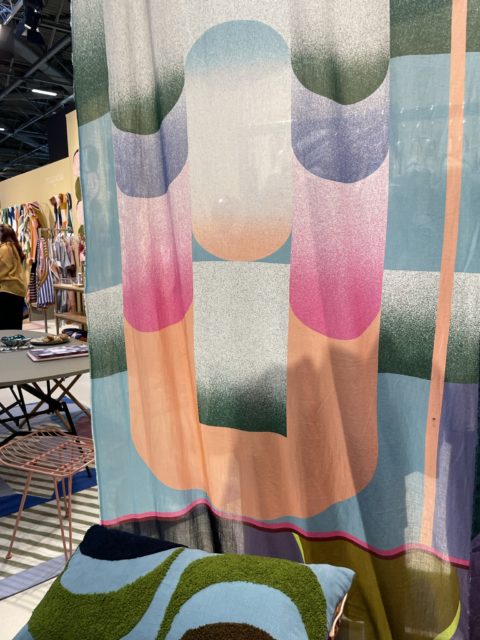 Cookut
Giobagnara, again
Triangles, too
Since we're on this 80s theme I want to point out that I am STARTING to see a classic 80s reference with triangles, squares and circles. Starting. We will see how this grow.
Slates in mixed materials from Palezzo.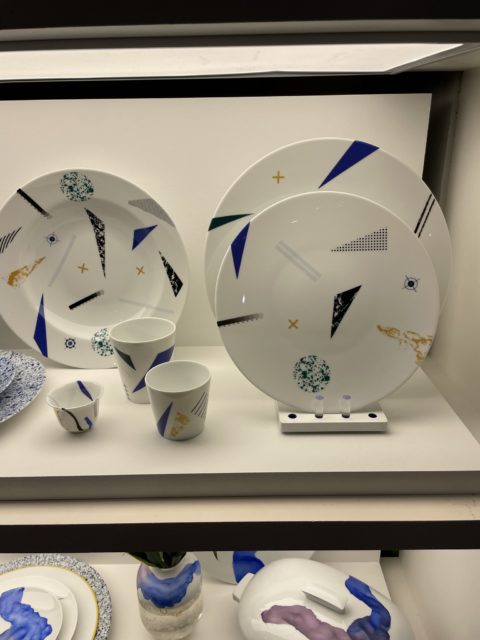 Plates from Non Sans Raisons.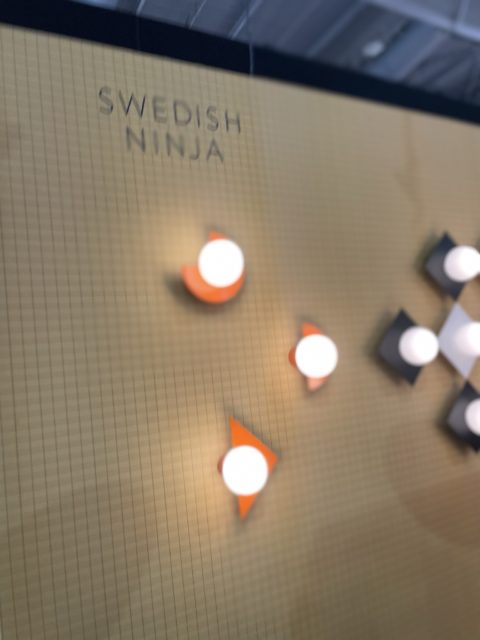 Blurry… But you get the idea. From Swedish Ninja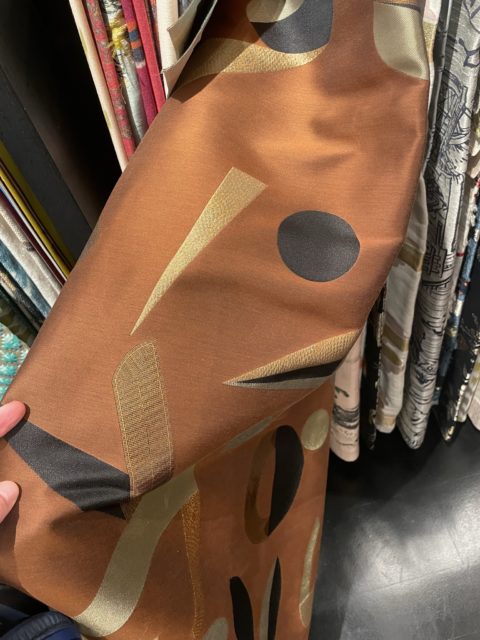 Dedar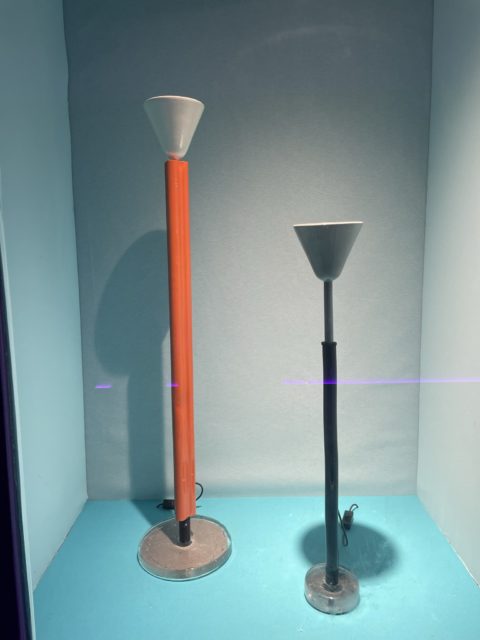 I didn't see a lot of these kind of lamps, but a few. I just wanted to add them to this 80s theme.
This floor lamp from Jonathan Adler…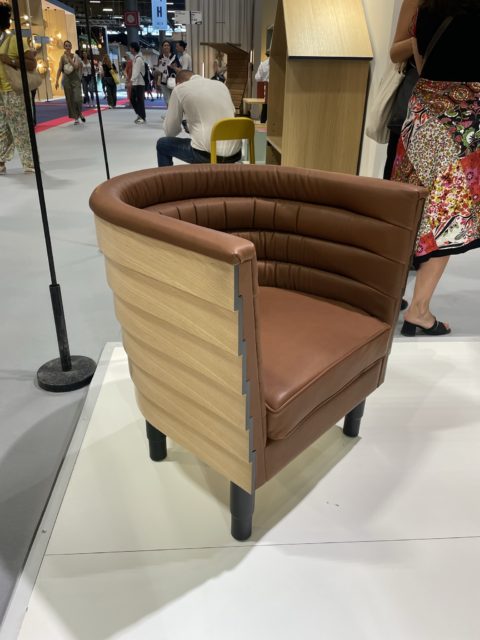 Also seeing this way of repeting the same shape.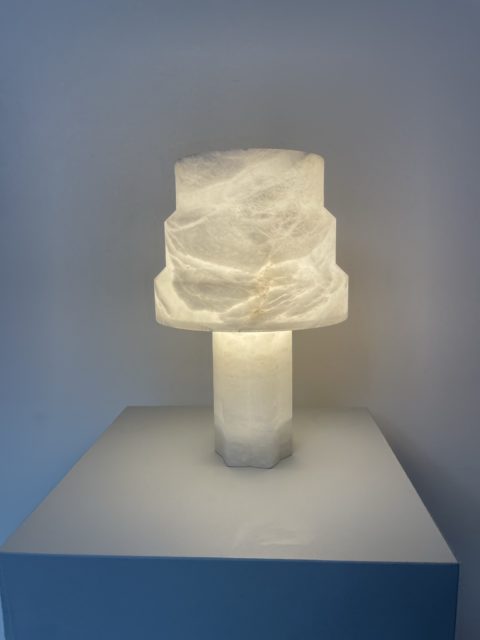 And last comment. Very raw. Almost made of things you find on the street.
But enough of the 80s.
Ethereal
Not really sure what to call this trend. It is about elevating your self from this boring and scary world. It could be mystical. Or supernatural. But it is light. And the opposite of this raw, earthy trend we have seen for a while.
There were two major trend installations. We have already seen pictures of the pattern one. But Peclers made a very sensual installation and what stuck to me were things like this. Supernatural, light and etheral.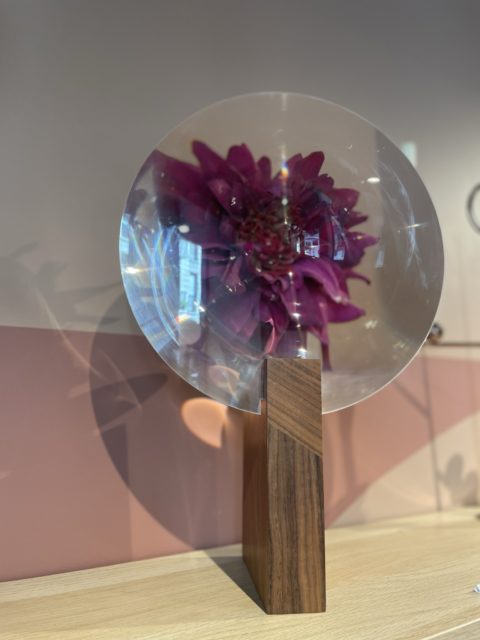 It's like we want to turn our eye AWAY from reality. Here at Maison Dada.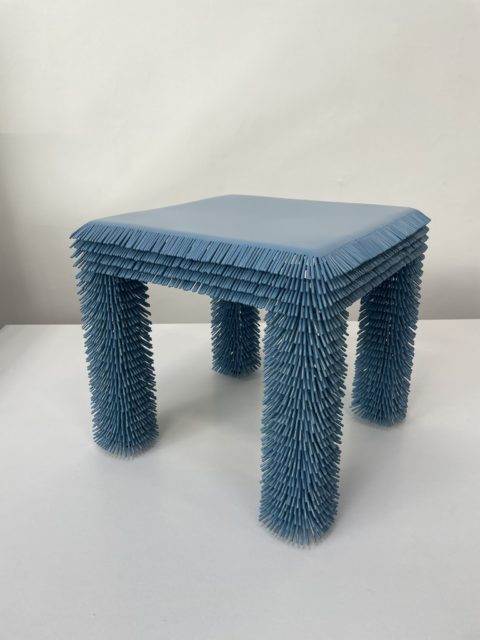 A table. It is not soft and fluffy. It is actually made of metal. By Mark Malecki.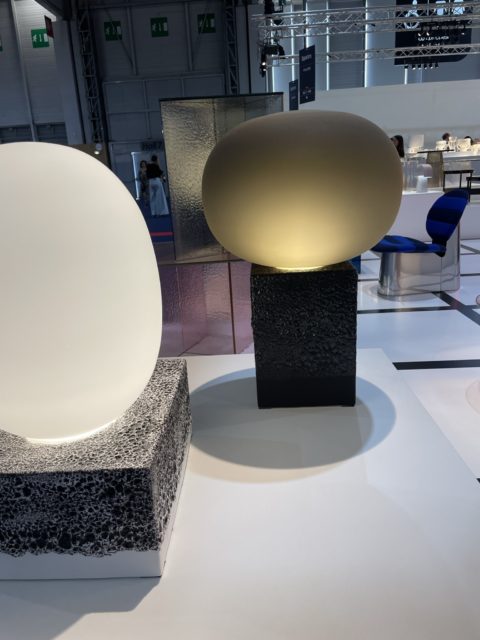 Lamps at Pulpo Products. Loved how they experimented with surfaces.
Faye Toogoods table…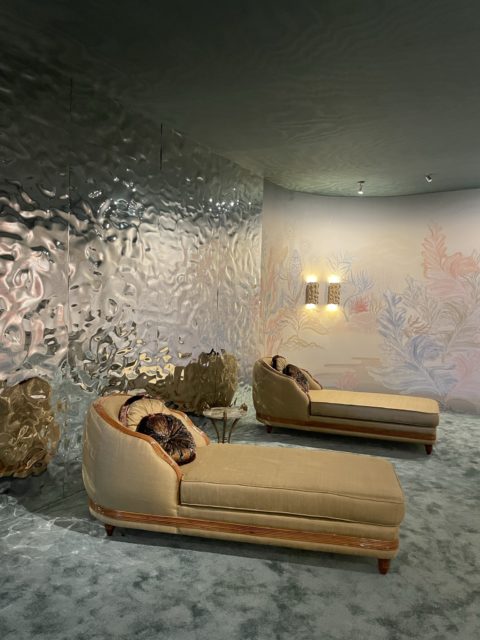 This amazing resting room by Friedmann & Versace
And things just start to look like this.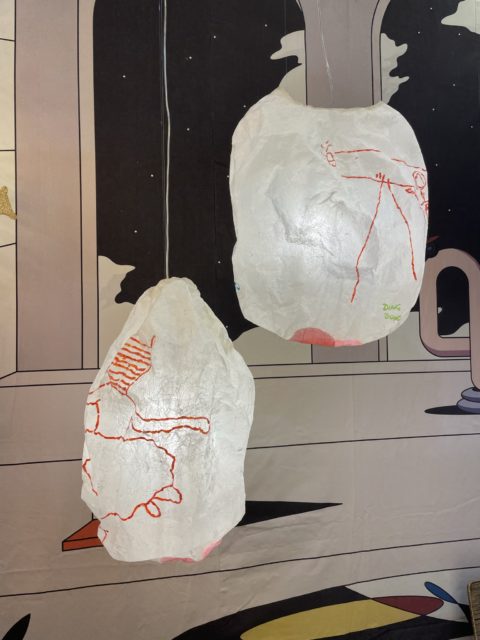 It's uneven, wobbly and I am not sure what to think of it… But interesting. And different.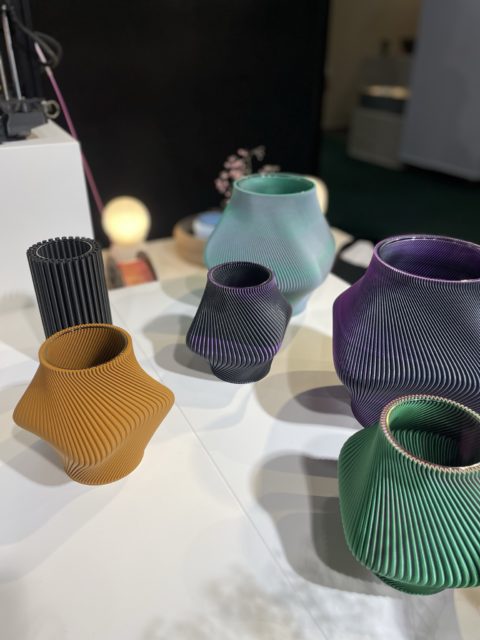 In conclusion. Was it good? Absolutely. In a way it is harder than previous years. A lot of brands are slowing down on launches. Which is good. But looking for things that give you that excited, tingeling feeling – it is pretty difficult.
I had a long talk with Pecler and I look forward to see how they evolve. Also they did a trend installation with fewer objects and more art or unique pieces.
I would say, that trendwise we are going for some kind of 1980s aesthetic. It could be sexy or like tv show "Golden Girls", but that's the direction. And we will see fewer things.
What role will a fair play when we have fewer things in the exhibitions? I am totally certain that fairs have a role to play when it comes to meetings. So maybe next time we will meet more? Talk more? Laugh more? I think that is a sustainable evolution and I like that.